Longecity cryonics research fundraiser success january february march 2012 $6000 matching 2
Uploaded by brokenportal , Mar 06 2012 08:33 PM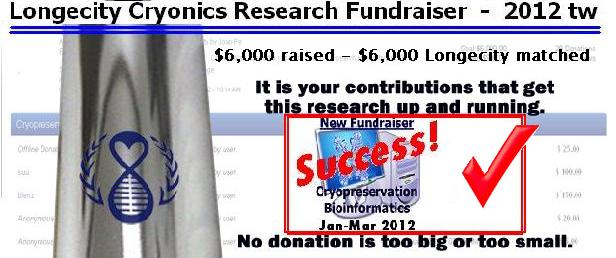 Quote
Uncovering the mechanisms of cryoprotectant toxicity
Joao Pedro de Magalhaes (aging@liv.ac.uk), Soren Stirling
Integrative Genomics of Ageing Group, University of Liverpool, UK
Quote
As a
SPECIAL BONUS
: if, together, we manage to support the project at least to a level where it can commence (~$10.000 = 5K from public donations) then LongeCity will
also support the runner-up project
proposed by Ben Best, Aschwin & Chana deWolfe to study the effect of blood washout and vitrification perfusion in a small animal mode, with a seed funding contribution of $1500l!!
The fundraiser was a success!
Thank you to all of the contributors that made this
cryonics research fundraiser
happen. The donation tracker has received its last possible donation today, we have raised not just the minimum, but the maximum. You should all be proud of yourselves. You are wary enough to know where to walk ahead and leave the important kinds of trails for future people to follow.
Contributors:
AdamSummerfield
AgeVivo
alive
Arch_NME
blenz
caccolillo
caliban
DeadMeat
Droplet
German Society for Applied Biostasis - 2000 Euro!
JappieHoekstra
jCole
jdkasinsky
JeremyCrow
Journeyman
jtwood81
kevin
Lisa Shock
Living Cubed
Mind
MindSparks
Mondey
Odestoteles
Peter Gouras
rudi hoffman
s123
ScienceGuy
Shepard
SucubbusLT
suu
thughes
Tomas E
Zans
Thank you also to all anonymous contributors, and any that we may have missed.
Thank you all!
http://www.longecity...__fromsearch__1
http://www.longecity...ion-fundraiser/
Longecity cryonics research fundraiser success january february march 2012 $6000 matching 2