@Stinkorninjor I spent years where Ashwagandha would instantly make the sensitivities go away. And where Chamomile would instantly bring them back. I'm talking with a few minutes or less. I'm still confident that on PubMed or similar studies there is a direct set of receptors or a chemical that Ashwagandha was up-regulating while Chamomile is down-regulating (although both only lasted while they were in my system aka 24 hours). Have we found an explanation for this phenomenon?
Kynurenic acid as an Antagonist of α7 Nicotinic Acetylcholine Receptors in the Brain: Facts and Challenges
https://www.ncbi.nlm...les/PMC3721521/
Hypothetically if something like α7 nAChRs are the cause, it seems like taking Tryptophan by way of Kynurenic Acid might be a possible way to reverse this? (5-HTP never benefited me at all though). When I say endogenous, for example, I used to be 1,000'x sensitive to herbs & medicines, but I was never sensitive in the same way to substances like Magnesium, CoQ10, things like that.
So... reversing this state might not mean much, since you'll still have a form of dysautonomia - all sorts of things could trigger something similar or equally bad, or even the same thing, again.

At least some of the states mentioned in the article, which causes Dysautonomia, are highly, highly hereditary - Fibromyalgia in particular, is proven to be familial. You need to consider that you were born with a malfunctioning immune system, and then take steps to permanently keep it in check.
I agree that I will still have the root disorder that I have now. My goal is to find which substance will reverse what messed me up.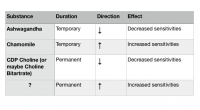 Edited by dk2011, 14 December 2017 - 04:47 PM.