Published at Rejuvenation Science News (RSN)
Abstract
Communication between cells is quintessential for biological function and cellular homeostasis. Membrane-bound extracellular vesicles known as exosomes play pivotal roles in mediating intercellular communication in tumor microenvironments. These vesicles and exosomes carry and transfer biomolecules such as proteins, lipids and nucleic acids. Here we focus on exosomes secreted from senescent cells. Cellular senescence can alter the microenvironment and influence neighbouring cells via the senescence-associated secretory phenotype (SASP), which consists of factors such as cytokines, chemokines, matrix proteases and growth factors. This review focuses on exosomes as emerging SASP components that can confer pro-tumorigenic effects in pre-malignant recipient cells. This is in addition to their role in carrying SASP factors. Transfer of such exosomal components may potentially lead to cell proliferation, inflammation and chromosomal instability, and consequently cancer initiation. Senescent cells are known to gather in various tissues with age; eliminating senescent cells or blocking the detrimental effects of the SASP has been shown to alleviate multiple age-related phenotypes. Hence, we speculate that a better understanding of the role of exosomes released from senescent cells in the context of cancer biology may have implications for elucidating mechanisms by which aging promotes cancer and other age-related diseases, and how therapeutic resistance is exacerbated with age.
1. Introduction
Cellular senescence is a cellular stress response that culminates in a state of stable cell cycle arrest [
1
]. As such, it has long been thought to function as an anti-proliferative mechanism against tumor formation in cancers. Senescence has also been strongly associated with age-associated diseases, and has been implicated in developmental processes and wound healing [
2
]. Cells undergo cellular senescence in response to stressful conditions such as DNA damage, oxidative stress, telomere attrition, oncogenic stress, irradiation and hypoxia. Importantly, the secretion of exosomes has been shown to increase under these conditions [
3
,
4
]. This is exciting as exosomes contain proteins, lipids, microRNAs, mRNA and DNA, and can act as "messengers" from one cell to another. This also implies a role for exosomes as senescence effectors. Under stressful conditions, exosomes could relay intercellular cell non-autonomous communication to neighbouring cells and thereby determine the appropriate cell fate response.
The main focus of this review aims to discuss the emerging cell non-autonomous role of senescence-derived exosomes and its possible implications for tumorigenesis. We first take a look at exosomal biogenesis and their functional roles upon uptake in premalignant and cancer cells. We then highlight the role of exosomes during senescence, with a key focus on exosomes as constituents of the senescent secretome known as senescence-associated secretory phenotype (SASP). Lastly, we provide an overall perspective as well as speculate on the implications of exosomes as pro-tumourigenic SASP in the "aging-cancer" nexus.
2. Exosome Biogenesis, Composition and Uptake
Extracellular vesicles are membrane-bound vesicles released by multiple cell types that include immune cells, prostate epithelial cells, stem cells, cancer cells, and neurons [
5
]. These include exosomes, epididymosomes, prostasomes, ectosomes, apoptotic bodies, microvesicles, and more recently oncosomes (
Figure 1
). Even though perplexity exists between the term "exosome" and "microvesicles", these can be distinguished on the basis of their sizes, functional properties and biogenesis (
Figure 1
).
Figure 1.
Origin and biogenesis of different groups of extracellular vesicles. EVs are arranged by increasing size from left to right. Left- Exosomes, are secreted by a variety of cell types and are formed in MVBs via the endocytic pathway. Epididymosomes and Prostasomes are EVs found in seminal fluid. Epididymosomes are secreted by cells in the epididymis through budding from the plasma membrane and prostasomes are secreted by epithelial cells of the prostate gland via endosome formation and release into the prostatic fluid. Ectosomes, like exosomes, are secreted by a variety of cell types but unlike exosomes, they are formed via budding from the plasma membrane. Apoptotic bodies are the results of blebs arising from disassembly of apoptotic cells. They are subdivided into two groups, depending on their contents: nuclear (DNA carrying) apoptotic bodes (NABs) and cytoplasmic apoptotic bodies (CABs). Microvesicles are larger in size and are also secreted by a variety of cells. They are also generated by outward budding from the plasma membrane. Oncosomes are much larger than most extracellular vesicles are secreted by various cancer cells via membrane shedding.
Exosomes are basically nano-sized (ranging from 40–100 nm) intercellular communication shuttles. Since the discovery of exosomes in 1983, it has become evident that exosomes contribute to many aspects of physiology and disease, mainly via cell-to-cell communication [
5
]. We highlight a few exciting milestones in the biology of exosome research in
Figure 2
.
Figure 2.
Historic landmarks for the discovery and application of exosomes. Chronological summary of the key events that led to the discovery and application of exosomes and EVs from 1983 to 2016.
Exosome biogenesis begins with inward budding of the cellular plasma membrane to form early endosomes. Inward budding of this endosomal membrane then forms late endosomes containing intraluminal vesicles (
Figure 3
). These endosomes are referred to as multivesicular bodies (MVBs) and contain multiple vesicles carrying various proteins, lipids and nucleic acids of the parent cell. Matured MVBs can either fuse with the plasma membrane (secretory MVBs) or lysosomes (degradative MVBs) [
6
]. The fusion of MVBs with the cell plasma membrane releases these vesicles into the extracellular milieu as exosomes [
7
] (
Figure 3
). MVBs can also fuse with lysosomes and subsequently be degraded [
8
]. Other unconventional pathways of biogenesis include the release of exosomes from secretory MVBs generated by bypassing the Golgi apparatus [
9
,
10
]. However, MVBs are not the only mechanism by which cells release exosomes into the extracellular space. Exosomes can also be secreted via budding instead of MVBs. For example, Jurkat T-cells have been shown to secrete outward budding vesicles enriched in exosomal protein CD63 [
11
].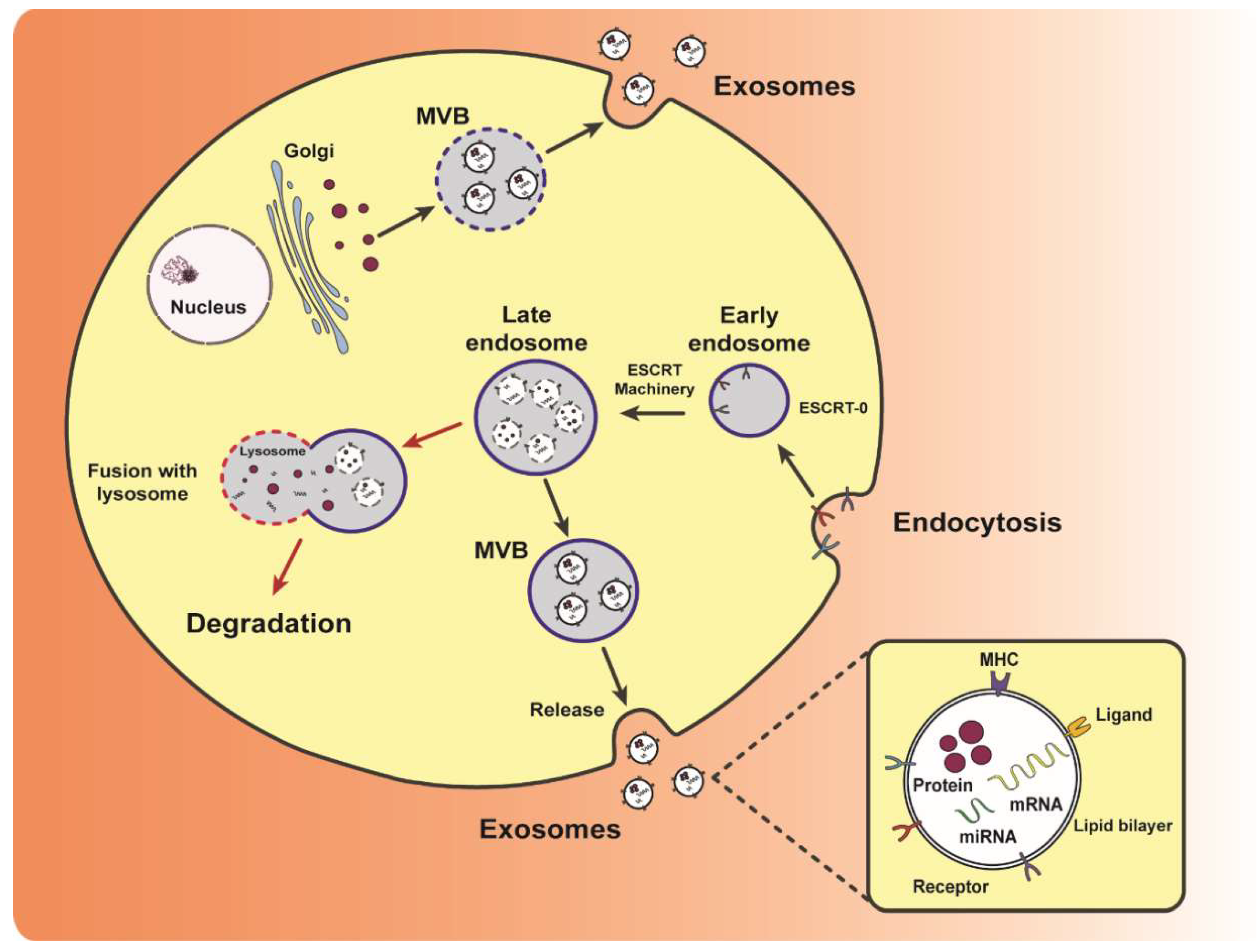 Figure 3. Schematic representation of exosome biogenesis and release. Biogenesis of exosomes via the ESCRT-dependent and –independent pathways are depicted. ESCRT-dependent biogenesis begins with the inward budding of the cell membrane with aid from ESCRT-0 to form early endosomes. The other ESCRT complexes aid in the packaging of exosome contents into late endosomes. These endosomes can either fuse with lysosomes to be degraded or develop into MVBs and release exosomes into the extracellular space. ESCRT-independent biogenesis includes packaging of proteins from the Golgi into exosomes within MVBs and released into the extracellular space. A wide variety of cargo can be encapsulated within exosomes, such as mRNA, miRNA, proteins.
The biogenesis of exosomes in MVBs can be delineated into two major pathways: (1) endosomal sorting complex required for transport (ESCRT)-dependent and (2) ESCRT-independent pathways [12,13,14,15]. The ESCRT-dependent pathway includes four membrane-bound complexes: ESCRT-0, ESCRT-I, ESCRT-II and ESCRT-III. These complexes have separate functions in the ESCRT pathway. In general, the pathway directs ubiquitinated proteins onto the surface of the endosome and is responsible for the budding of exosomes into the interior of the endosome, forming MVBs [16]. Other proteins have also been identified to be crucial to ESCRT-dependent exosome biogenesis. A study by Baietti et al. highlighted the role of the membrane protein syndecan and cytosolic protein syntenin in exosome production. The interaction between these proteins and ESCRT protein Alix was proven to be essential for the production of exosomes [17]. ESCRT-independent pathways in the biogenesis of exosomes involving lipids, tetraspanins and other proteins [18,19] have also been demonstrated. Indeed, Trajkovic et al. observed that ESCRT proteins were not involved in the biogenesis of proteolipid-containing exosomes [20]. Rather, they found an enrichment of ceramide (a sphingolipid) on the surface of MVBs which triggers inward budding to produce exosomes. Both ESCRT-dependent and –independent pathways have been found to require participation of cytoskeletal components (actin, microtubules), motor proteins (kinesins, myosins), and attachment proteins (SNAREs) [21].
The molecular profiles of exosomes produced through their biogenesis resembles that of the parental cell and contain endocytic proteins [
8
,
22
,
23
]. The composition of exosomes consists of proteins, lipids, genomic DNA, mitochondrial DNA, mRNA, microRNA and long non-coding RNA. Efforts have been made to compile a depository of exosomal proteins, RNAs and lipids from several studies into online databases such as ExoCarta [
24
] and Vesiclepedia [
25
]. Exosomal proteins include proteins identified from the cytosol, endosomes and the plasma membrane. They contain very small amounts of proteins that are of nuclear, mitochondrial, Golgi-apparatus or endoplasmic-reticulum origin [
5
]. Although the contents of exosomes depend highly on their parental cells, there are also ubiquitous cytosolic proteins that can be found across different types of exosomes. These ubiquitous proteins include cytoskeletal proteins (tubulin, actin and actin-binding proteins), exosome biogenesis proteins, signal transduction proteins (heterotrimeric G proteins and protein kinases, 14-3-3 proteins), metabolic proteins (pyruvate and lipid kinases, peroxidases, and enolase-I) and heat shock proteins (constitutive form of HSP90 and HSP70) [
26
]. In addition, these proteins also aid in antigen presentation on the surface of exosomes by binding to antigen peptides and loading these peptides onto MHC molecules [
27
]. Interaction with MHC molecules is aided by tetraspanins, a family of proteins that are found in abundance in exosomes. Members of the tetraspanin family (CD9, CD63, CD81 and CD82) are involved in many aspects of exosome biogenesis and function.
The exosomal membrane consists of proteins related to the endosomal membrane transport and fusion pathway (RAB, GTPases, flotillin and annexins), and the ESCRT pathway (TSG101, gag proteins and ALIX) [
28
]. In addition, the surface of exosomes can also contain immunoglobulin-family members (intercellular adhesion molecule 1; ICAM1), transmembrane proteins (α- and β-chains integrins), cell surface peptidases and milk-fat-globule EGF-factor VIII (MFGE8)/lactadherin [
29
]. FACS analysis of exosomes and their parental cell surface markers revealed that the protein composition of the exosomal membrane is markedly different from the plasma membrane as they lack membrane proteins of their parental cells such as CD28, CD40L and CD45 (T-cell-derived exosomes), Fc receptors (DC-derived exosomes), and transferrin receptor (B-cell-derived exosomes) [
30
]. The lipid content of exosomes include phosphatidylcholine, diglycerides, ceramides, sphingomyelin, ganglioside GM3, and cholesterol [
31
,
32
,
33
]. Exosomes from different parental cells have slightly different lipid contents. Platelet-derived exosomes were observed to contain low levels of lipid molecules such as phosphatidylserine on their surface [
34
], while B-cell-derived exosomes were observed to contain lyso-bis-phosphatidic acid, a lipid that is found in mature endosomes [
35
]. Both lipid proteins and phospholipases play an important role in exosome structure, packaging and function [
36
]. Exosomes have also been reported to be enriched in RNAs consisting of miRNAs, small non-coding RNAs (piRNA, snRNA, snoRNA, scaRNA, Y RNA), natural antisense RNAs, tRNAs and their fragments, mRNAs, and long non-coding RNAs [
37
]. The presence of RNA in exosomes was first reported by Valadi et al. who coined the term "exosomal shuttle RNA" to describe functional RNAs that could be internalized by the recipient cell [
38
].
Once exosomes are secreted, they travel through the extracellular millieu and get taken up by cells via (a) direct signalling through surface molecules, (b) fusion with target cell membrane, © receptor-dependent endocytosis and (d) the phagocytosis of opsonized exosomes (
Figure 4
) [
39
]. Exosomes attach to the plasma membrane via adhesion-associated proteins found on their surface, such as tetraspanins, SNAREs and integrins [
40
]. Exosome internalization can also depend on other proteins, such as actin and phosphatidylinositol 3-kinase, but the exact mechanisms for the internalization of exosomes remain unclear. Tian et al. have studied the movement of exosomes through the plasma membrane as well as within the cytoplasm of recipient PC12 cells using real-time fluorescence microscopy [
41
]. They found that exosomes were shuttled along the cytoskeleton or diffuse into the cytoplasm as their contents were unloaded. In a bid to find the most preferred pathway for exosome internalization, Feng et al. studied exosomes derived from K562 (chronic myelogenous leukemia) or MT4 (human T-cell line) cells and found that these were more efficiently internalized by phagocytes than by non-phagocytic cells [
42
]. Following cellular uptake by phagocytosis or endocytosis, exosome-delivered cargo were either incorporated into a cell, thereby effecting a biological change, or were directed to lysosomes to be degraded [
39
,
41
].
Figure 4.
Exosome interaction and internalization by recipient cells. Interaction and/or internalization of exosomes by target cells lead to activation of various signaling pathways and transfer of exosomal contents, culminating in a cellular response. Exosomes may interact with target cells by several pathways depending on their contents and the presence of specific receptors on their surface. (
a
) Direct signaling of exosomes does not involve uptake of exosome contents into the recipient cells. Exosomes present signaling molecules on its surface that when in contact with recipient cells, illicit a response in the recipient cell (such as interaction of antigen present on exosomes with T-cells, stimulating an immune response). (
b
) Fusion with cell membrane releases exosomes contents directly into the cytoplasm. (
c
) Phagocytosis of exosomes is performed by specific cell types such as macrophages. (
d
) Receptor mediated endocytosis requires a surface ligand-receptor pair between exosomes and the recipient cell to facilitate uptake of exosomes into the cell.
3. Exosomes in the Tumor Microenvironment
3.1. Exosomal Proteins
3.2. Exosomal Messenger RNA
3.3. Exosomal Microrna
4. Exosomes as Components of the Senescence-Associated Secretory Phenotype
4.1. The Senescence-Associated Secretory Phenotype
4.2. Exosomes as Pro-Tumorigenic SASP
5. Perspectives
Edited by Engadin, 31 May 2019 - 04:45 PM.