Why is Alex Chiu's 'immortality device' a fake?

Chiu's device fails because magnetic therapy does not work. If you're a believer in Chiu's device, please consider the following information before you waist your time and money on something that will not help.
Sadly, I've had to ban people from posting to ImmInst in the past for repeatedly promoting Chiu's device. To maintain order, hyping of products is not allowed. Refer to the
Forum User Agreement
for more on this.
Alex Chiu's device is a magnetic device. It is intended to be worn as a ring or bracelet. Chiu has a
website
, where he claims the "Immortality Device is believed to allow humans to stay physically young forever". Yet, his only supporting evidence is hype and speculation.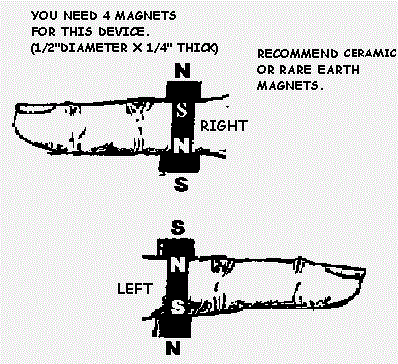 Chiu, in 1997, purchased a patent
# 5,989,178
in which he claims:
"... a human body carries magnetic flux current which cycles around the body. If this magnetic flux cycle in the body gets stronger, and faster, the healthier the body should become."
First of all, anyone can file a patent for just about any device. Having a patent doesn't mean a product works or that it has been granted some special authorization from any scientific board. On the contrary, people will file for a patent simply to make their product seem more reputable. This looks to be the case with Mr. Chiu and his 'immortality' device.
Magnetic therapy has been seriously questioned and anyone considering buying any product that claims healthful benefit from magnets needs to read the following:
"I know of no scientist who takes this claim seriously...It's another fad. They come and go like copper bracelets and crystals and all of these things, and this one will pass too." --Robert Park of the American Physical Society.
http://skepdic.com/magnetic.html
Magnet therapy is a type of "alternative" medicine which claims that magnetic fields have healing powers. Some claim that magnets can help broken bones heal faster, but most of the advocacy comes from those who claim that magnets relieve pain. Most of the support for these notions is in the form of testimonials and anecdotes, and can be attributed to "placebo effects and other effects accompanying their use" (Livingston 1998). There is almost no scientific evidence supporting magnet therapy. One highly publicized exception is a double-blind study done at Baylor College of Medicine which compared the effects of magnets and sham magnets on the knee pain of 50 post-polio patients. The experimental group reported a significantly greater reduction in pain than the control group. No replication of the study has yet been done.
A less publicized study at the New York College of Podiatric Medicine found that magnets did not have any effect on healing heel pain. Over a 4-week period, 19 patients wore a molded insole containing a magnetic foil, while 15 patients wore the same type of insole with no magnetic foil. In both groups, 60% reported improvement.
----
While sales of magnetic products keep rising, there are a few scientific studies going on. The University of Virginia is testing magnets on sufferers of fibromyalgia. The Universities of Miami and Kentucky are testing magnets on people with carpal tunnel syndrome (Collie). At present, however, we have no good reason to believe that magnets have any more healing power than crystals or copper bracelets
-----
Biomagnetic Pseudoscience and Nonsense Claims
The following is a short excerpt from an updated version of a paper titled "Magnetotherapy, the Latest Magic Touch" presented at the Ninth European Skeptics Conference, in La Coruna, Spain, September 4-7, 1997. Miguel A. Sabadell
http://www.csicop.or...07/magnet2.html
--------------------------------------------------------------------------------
One of the main ways magnetotherapy is applied is through the use of permanent magnets. According to proponents, you can get their benefits as follows:
Local application: Effects depend drastically on which pole you apply. North pole: against pain, inflammatory and infectious processes. South pole: provides strength and energy. Does your shoulder hurt? No problem. Put the north of one of the magnets on the front of your shoulder and the south of the other one on the back of it (like a sandwich).
General application: The aim of this method is to provide a general magnetic flow inside the body. This helps to regulate the disorders of the organism. A correct application of the general method is said to involve a deep knowledge of the polarity of the human body and its affinity with therapeutic magnets.
Proponents contend that the north pole has negative electric potential and south, positive (nonsense x 1010) and that it has been established (by whom?) that the front and the right side of the human body are positives, and back and left side, negatives. So on the right side you must apply north and on the left the south. Pay attention to the extraordinary therapeutic: if your illness is above the waist, you must correctly apply the magnets on the palms of your hands. But if your sickness is below the waist then magnets must be placed below your feet. Isn't it great?
Their claims. -- The following collection of nonsense claims about magnetotherapy has been compiled from booklets and radio programs. In parenthesis are my comments, perhaps cynical but . . . who could help it?
The Earth's magnetic field has fallen fifty percent in the last centuries and five percent in the last hundred years. This falling has provoked an increase in common diseases. This is called Magnetic Field Deficiency Syndrome. Such effect has increased because of modern life, immersed in a world of iron, steel and concrete. The modern world deprives us of the healthy influence of the natural (of course!) magnetic field necessary to maintain our bioelectric cellular equilibrium.
Cells work better in the presence of magnetic fields. Experiments with plants prove it. (Which ones?)
Cells live on magnetic energy, and most of this energy is provided by water. (It is true. I feel better when I eat a juicy magnetic steak)
In big cities the magnetic field doesn't exist or it has been strongly modified. (So you can not use a compass in a city, I suppose)
Spring water is magnetized. But if you bottle it, after five days it loses its power.
Water has a magnetic potential (?) that we can help to recover. (This sounds Aristotelian, doesn't it?)
The natural phase of water is gaseous, but the Earth's magnetic field and its uncommon properties make it liquid. (No comments. The ways of illiteracy are endless).
Magnetic water loses its curative properties in contact with metals. (Who doubts it?)
Illness is caused by losing energetic equilibrium, and magnetotherapy helps to recover it. (I think you had better plug in. Everything works better if it is plugged in)
Eighty percent of common diseases have their origin on Magnetic Field Deficiency Syndrome. (Why are you laughing?)
Magnetotherapy was known by Chinese, Egyptians, and Indians 3,500 years ago. (Neither Egyptians nor Chinese knew this therapeutic use of magnets. Egyptians probably didn't even know the existence of magnets.)
Magnetic water is based on the principle of electromagnetic induction discovered by Faraday. How? In their words, we have a water flow (doubtless it is a current) and a magnet, so . . .
Louis Pasteur studied the effect of magnets on plant growth and on fruit enzymes. (Sure?)
The magnetic field modifies water structure, changing some of its physical properties.
In the body, the magnetic field increases the dilution of oxygen in plasma, transporting more oxygen together with the hemoglobin mechanism. (Give them the Nobel Prize for Medicine!)