To join the The Longevity Meme team, compete for the F@H Prize, and directly assist in the advancement of medical research, follow these instructions and links:
Stanford recently updated
the client installation guides
and in many cases developed new guides.
Folding Clients - Types of clients covered:
Windows

- Uniprocessor (classic) clients (For PCs with a single-core processor)
- SMP client (MPICH) (original SMP client - 32 or 64 bit OS)
- SMP client (DEINO) (a newer version - 32 bit only, 64 bit not supported)
- GPU clients (For running on high-end Graphics Cards)
Linux
- Uniprocessor (classic) clients
- SMP clients
Macintosh
- Uniprocessor clients (Intel/PPC)
- SMP clients (Intel)
PlayStation 3
Choosing the Folding Client
If you do not know which client to choose, probably the best approach is to go to the client download page here:
http://folding.stanf...nglish/Download
Read the offerings, then decide which client is best for your application.
The first listed in the download page are recommended clients based information provided by your browser.
Other available clients are listed just below the recommended ones.
Suggestion:
To obtain maximum productivity (PPD), consider a high performance client for computers with such capabilities as: dual-core, quad-core, GPU, etc. For example, computers with either dual-core or quad-core processors can run a version of the SMP client. A computer with a high-end GPU can run the GPU client.
If you already know that you wish to install a high-performance client (for example GPU client), go here:
http://folding.stanf...ownloadWinOther
Choosing an Installation Guide
Once a client type has been selected, then from the Folding Clients list (links above) choose an installation guide for client you wish to install.
Save, print, or have the the chosen guide open in a separate window, so that you can refer to it during the installation process.
Download and Install the Folding Client
Go back to the "Download page" that lists your preferred client:
Download the chosen client, choose either "Save" or "Run".
Save - Select a location on your hard drive to save/store for future installation
Run - Install immediately
If you choose "Run" be prepared to fill in info according to your previously chosen installation guide.
Two items will be required in all cases:
Your chosen folding User name - xxxxxxxxx
The Longevity Meme Team number - 32461
In some cases the Username and Team number will be entered in a graphical Control Panel box (see example below), in other cases they will be entered in a text only box. Please see the specific instructions for your chosen client.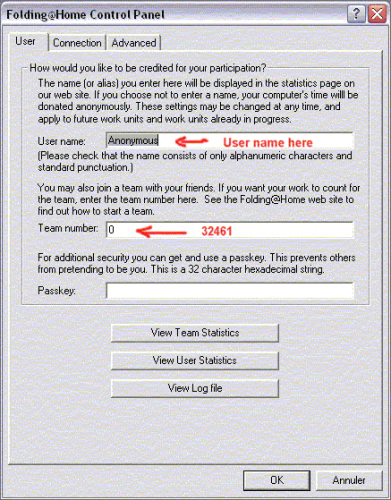 For detailed or specific questions/concerns Stanford has a FAH FAQ (
Index here
).
Note: Kismet and Sentinel substantially contributed to this post.
Edited by maestro949, 18 February 2009 - 06:48 PM.
Added 32/64 bit support description to DEINO/MPICH descriptions