Chat Topic:
Mar 28 - Posthumans & Extended Lifespans
Writer, artist, and Associate Editor of Leonardo Reviews for the journal of the International Society for the Arts, Science and technology, Robert Pepperell joins ImmInst to discuss the prospect for posthuman existence and extended lifespans.
Chat Time:
Sunday Mar 28, 2004
@
3*
PM Eastern

*Special Time
[
Time Zone Help
]
Chat Room:
http://www.imminst.org/chat
or, Server: irc.lucifer.com - Port: 6667 - #immortal
http://www.stem-arts.com/robart2.htm
Robert Pepperell was born in London in 1963 and grew up in Cheltenham, Gloucestershire where he was educated at Cheltenham Grammar School.
He studied Fine Art at University College, Wales (then Gwent College) under Roy Ascott, the visionary telematicist. Whilst here he developed a strong interest in experimental film and theory. During post-graduate studies at the Slade School of Art, Robert became fascinated by computer technology, particularly the potential of global digital communications. He contributed to a number of significant art installations with Roy Ascott including The Venice Biennale and Ars Electronica.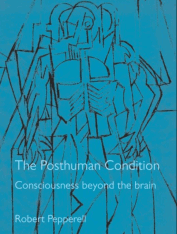 In 1995 Robert Pepperell published a book called 'The Post-Human Condition' (Intellect Books 1995, reprinted 1997) which addressed the impact of new technology on art, philosophy, science and what it is to be human. It was also released as a digital manifesto on the internet. The book was well received and is now regarded as a critical text, being on many University reading lists.
A new and updated version of the Posthuman Condition, subtitled "Consciousness Beyond the Brain" was released in 2003. [
Amazon.com
]
In 1997 he collaborated with Coldcut on the 'Let Us Play' project. As creative director he was responsible for the production and design of the CD-Rom (widely acknowledged as one of the best music CD-Roms ever produced), cover concept and contributed two tracks. In addition he designed and produced the innovative software which was used on the subsequent world tour which allowed Vjs and Djs to collaborate in live performance.
He has recently published a second book, "The Postdigital Membrane: Imagination, Technology and Desire", co-authored with Michael Punt, Intellect Books. See
www.postdigital.org