Online friends
None of your friends are currently online
Search Articles
0
BASE Victor @OpenCures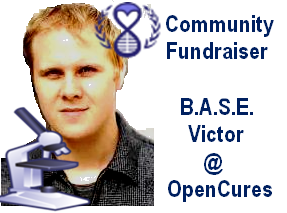 update: May 31st 2020
Thanks to the wonderful contributions of so many donors we have made excellent progress with the fundraiser… but we had such short time to finish it by today's deadline that it was always going to be tricky.
Luckily, at the last minute, another solution has been found!
Kevin
at OpenCures reached out to
Kelsey Moody
at
Ichor Therapeutics
- another
LongeCity Affiliate Lab.
And it has now been confirmed that Ichor are very likely able to host Victor for the remainder of his visa! LongeCity has to date supported seven interns at Ichor and we are confident that Victor's stay will be as successful. He will no doubt learn a lot – but he won't be working on BASE and that changes the fundraiser goals slightly.
The new plan is as follows:
We will use $1K of the money raised (plus any funds obtained specifically from the
"Victor Run"
next week) to help Victor re-settle in NewYork. The rest of the funds will go towards developing the BASE platform with the help of OpenCures as originally planned.
We hope this re-orientation meets with the approval of
those who very kindly donated to date.
LongeCity's policy has always been one of transparency and accountability with our fundraising. If you would prefer in light of the changed circumstances that we refund your donation that is not a problem: simply write us an email at
info@longecity.org
with the details of your donation (date and name) by June 8th 2020.
In any event- thank you so much for contributing to this community effort - stay tuned for an update on BASE and an internship report from Victor at Ichor towards the end of this year.
Initial fundraiser text below
further updates and comments in
the corresponding forum thread
For years while Victor pursued his studies he has been active in organizations promoting research and activism for longer and healthier lifespans -- including many contributions to the LongeCity community. After obtaining his degree Victor, originally from Sweden, was thrilled to be recruited to intern at an aging research company in the San Francisco Bay Area. Now, because of COVID19, his engagement had to be terminated and Victor's visa is in peril.
With the goodwill of supporters, we hope to raise enough funds to enable Victor to stay and work with one of our Affiliate Labs in the area:

OpenCures
, the latest venture by our former Director Kevin Perrott helps self-directed researchers access cutting-edge tools such as mass spectrometry to self-evaluate their biomarkers. Classified as an essential biotech, OpenCures is not restricted by the current lockdown provisions.
At OpenCures, Victor could not only gain valuable experience and training but also help with a key project for LongeCity:

B
iomarkers of
A
ging
S
elf
E
xperimentation (BASE) aims to advance longevity science by collating data from scientific sources and personal test results in a curated community format.
The project will empower LongeCity members to analyse and understand their own data, recruit new 'citizen scientists' to the community, and provide a valuable open source reference for researchers.
OpenCures -with Victors input- are the ideal partner for this community initiative.
Fundraiser Goal: $13 000.-
- LongeCity will MATCH each donation -- for a total of $26K!

This fundraiser will cover the minimum expenses for Victor's lawful employment at OpenCures for the remainder of his visa and the technical and conceptual development of the BASE project. Funds will be collected by LongeCity and transferred to OpenCures as a research grant.

Donations can be made ⇒ here via paypal or credit card.
You do not need a paypal account - but select 'paypal' as payment processor for credit card payments. You also do not have to register or join (but if you are a Member remember to log in first so the donation can be duly credited to you).
We will gladly issue you with a receipt for tax purposes upon request. You can track the progress from the ⇒
forum index page
.
LongeCity (Longecity.org/ImmInst.org) is an international, not-for-profit, membership-based organization (⇒
more info
) LongeCity's approach to supporting regenerative science has always been characterized by small-scale, high-impact projects sourced and steered by and in connection with its community. Years before 'crowdfunding' and 'citizen science' became well known concepts they were practiced at LongeCity. You can read about some of our previous initiatives ⇒
here
&
here
For any questions please contact info@longecity.org.
Article: BASE Victor @OpenCures