A randomized, single-blind, placebo-controlled phase 2 clinical study of 31 overweight or obese NAFLD patients between 25 and 63 years of age found that combined metabolic cofactor supplementation (CMCS) significantly decreased liver fat by 10% and improved liver function, as seen through the significant reductions in serum ALT (39%), AST (30%), and uric acid (12%) levels.
"Consumption of the combined metabolic cofactors for only 10 weeks notably decreased liver fat and improved liver functions compared to the placebo," says principal study investigator Dr. Mardinoglu. "Based on these findings, we plan to test the effect of the metabolic cofactors in nonalcoholic steatohepatitis (NASH) patients with liver fibrosis and inflammation by designing a randomized, double-blinded, biopsy-proven clinical study."
https://papers.ssrn....ract_id=3778301
CMCS treatment was given for 70 days after the initial diagnosis of high hepatic fat by MRI-PDFF. Patients in the treatment group took one dose of CMCS (3.73 g L-carnitine tartrate, 1 g nicotinamide riboside, 12.35 g serine, and 2.55 g N-acetyl-l-cysteine) daily for the first 14 days (after dinner) and two doses daily for the next 56 days (after breakfast and dinner).
In previous studies Dr. Mardinoglu observed a reduction of up to 20% of the liver fat upon administering 20g Serine/day for 14 days.
In another study they analyzed the absorption/serum presence of CMCS after a 1 big dose/day or split in two halves. The two doses/day gives better results.
Other studies showed that reducing carbs (<30g/day) and eliminating glucose and fructose significantly improves NAFLD: https://doi.org/10.1...met.2018.01.005
Also, supplementing with Silybum marianum (Milk Thistle) improves the glutathion reuse and overall liver function.
The protocol I follow is, twice a day:
1g L-carnitine - to boost the fatty acid uptake into mitochondria.
1g NR ( == 0,5g Nicotinamide + 0,5g Ribose, per Turnbuckle) - to boost the oxidation of the fat in the mitochondria by generating NAD+
10g Glycine (serine has to be metabolized anyway into glycine in order to be used to produce de novo glutathione, GSH)
1g NAC - to boost the level of GSH which is required for preventing the accumulation of incomplete products of fatty acids oxidation
250mg Milk Thistle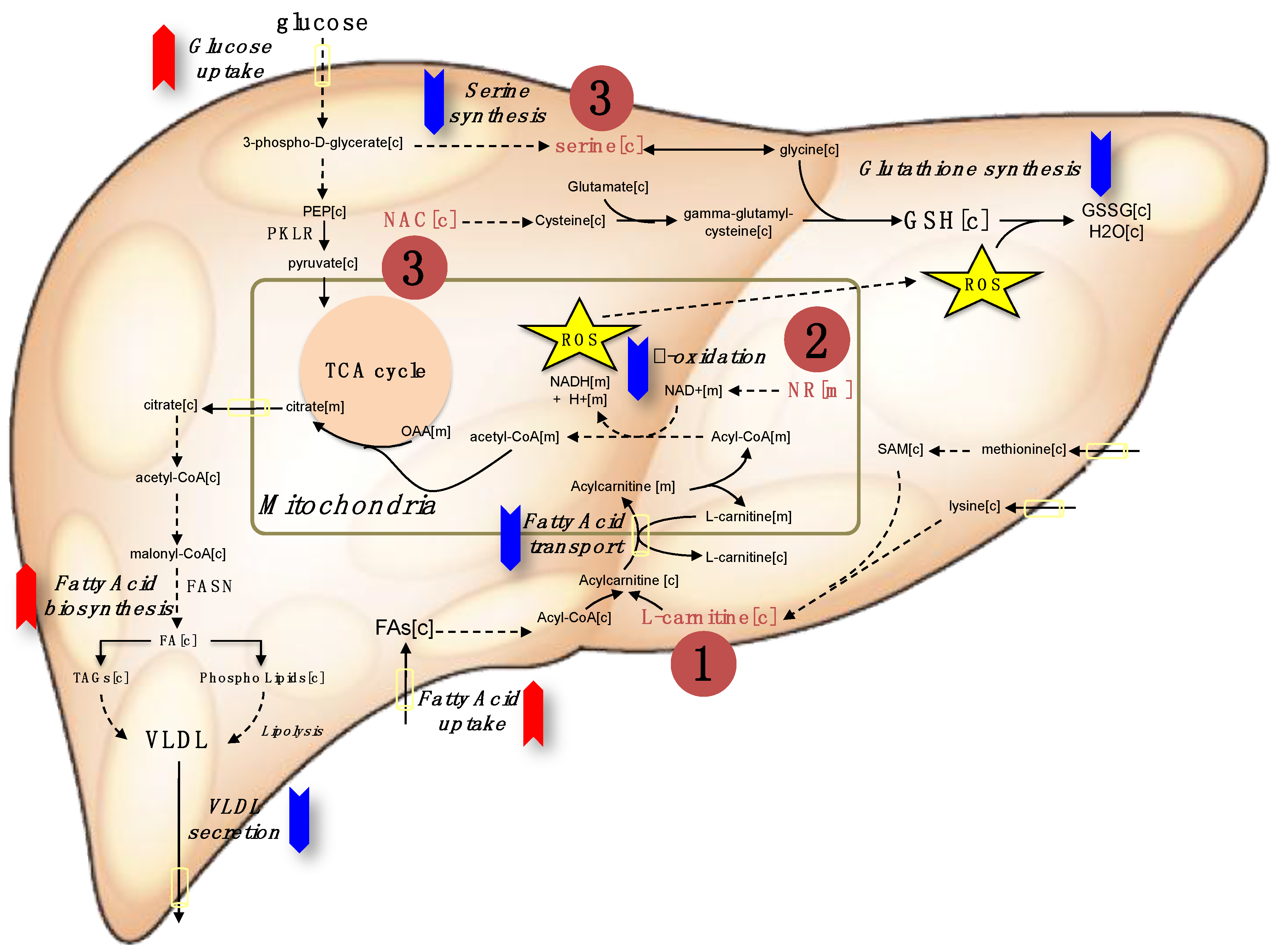 Edited by Danniel, 18 April 2022 - 12:11 PM.