This poll is meant to give ImmInst an idea of how many people will attend.
Please vote above or reply below if you plan to attend.
...
Immortality Institute's
Life Extension Conference
Atlanta, GA - Sat. Nov 5, 2005.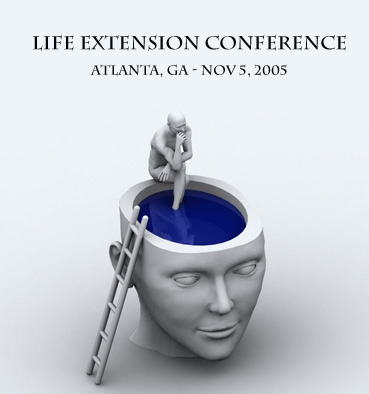 THEME: Enhance and Protect the Brain for Life Extension
Speakers (thus far):

Aubrey D.N.J. de Grey, Ph.D.

Eliezer Yudkowsky

Peter A. Passaro

Natasha Vita-More

Rudi Hoffman, CFP

Ralph C. Merkle, Ph.D.

Sonia Arrison

Max More, Ph.D.

Peter Houghton

James J. Hughes, Ph.D.

Ben Best - Cryonics Inst.

Ben Goertzel, CEO of Biomind
http://www.gatechhot...vents/index.cfm
For conference price, accommodations, etc, please see...
Official Conference Website:
http://imminst.org/conference/