.
F U L L T E X T S O U R C E (.PDF) : bioRXiv
Abstract
Dietary restriction (DR) is a key focus in ageing research. Specific conditions and genotypes were recently found to negate lifespan extension by DR, questioning the universal relevance of DR. However, the conceptual framework of dietary reaction norms explains why DRs effects might not be apparent in some situations. When dietary reaction norms shift with genetic or environmental effects, a specific dyad of diets tested can result in a null effect. Only if a full reaction norm is tested can lifespan (or any trait) be shown to be refractory to diet. We tested comprehensively, for the first time, the importance of dietary reaction norms by measuring longevity and fecundity on five diets in five genotypes, with and without water supplementation, using high sample sizes in the fly (N>25,000). We detected substantial genetic variation in the reaction norm between diet and lifespan. Environments supplemented with water rescued putative desiccation stress but only at the richest diets. Fecundity declined at these richest diets, but contrary to effects on lifespan, was unaffected by water and is thus most likely caused by nutritional toxicity. Our results demonstrate empirically that any conclusion on the absence of DR is only justified when a range of diets is considered in a reaction norm framework.
Introduction and Results
Dietary restriction (DR), the limitation of food intake but avoiding malnutrition, extends lifespan. The generality of the DR response has been questioned, however, by reports that DR does not extend lifespan under certain experimental conditions (Austad, 2012; Ja et al., 2009; Piper et al., 2010) or in some genotypes (Liao et al., 2010; Tatar, 2011). These conclusions are routinely based on experiments using two diets (dietary dyad) alone, whereas it is recognised that a change in the continuous relationship between diet and lifespan (reaction norm) can obscure lifespan extension by DR (Flatt, 2014; Tatar, 2011). The bell-shaped nature of thedietary reaction norm dictates that one particular diet concentration, in one genotype or environment, will result in the longest lifespan; with lower or higher diet concentrations inducing a shortened lifespan due to overfeeding or malnutrition. Where a particular dietary dyad falls on this reaction norm will determine the magnitude of the DR effect and can even lead to the erroneous conclusion that DR shortens lifespan (Fig.1).
Given this, it is currently unclear to what extent genetic variation in dietary reaction norms confounds DR research. When specific environmental effects interact or interfere with the DR reaction norm, the use of dietary dyads could similarly lead to misleading conclusions. For flies specifically, water supplementation has been suggested to diminish the effect of DR on lifespan (Dick et al., 2011; Ja et al., 2009). The conclusion that water completely explains DR has been discredited (Piper et al., 2010), but flies nonetheless consider water a nutrient and consume 1-2μl per day, with higher consumption at higher dietary yeast concentrations
(Fanson et al., 2012). Hence, erroneous conclusions could be drawn from diet responses if desiccation presents a genotype- or diet-specific hazard. Here, we present DR reaction norms for fecundity and longevity across five genotypes in the fly with and without water supplementation using high sample sizes. Longer lifespans were observed at intermediate dietary yeast concentrations, consistent with DR, with a reduction in survival at the lowest and highest yeast concentrations (Fig.2A,S4; Table S1-6). We detected strong genetic variation in the response to diet (χ2=162, df=16, P<0.001) with the diet of maximum longevity differing between genotypes. To test the effect of desiccation, we compared longevity under control conditions to water-supplemented. Water reduced mortality particularly at higher yeast concentrations, with genetic variance for this reduction (χ2=160, df=16, P<0.001; Fig.2B; Table S2-6), ranging from a two- to twenty-fold reduction in hazard rate. To assess statistically whether water supplementation abolished DR-induced life extension (Ja et al., 2009) we ran our models within the water treatment only, but found no evidence for this suggestion (Fig.S1, Table S7-12). Given that water supplementation ameliorated, but did not eliminate, elevated mortality under these high yeast concentrations, we conclude desiccation can play an experimentally confounding role in DR, but is not causal.
DR is known to reduce reproductive output and is interpreted as a response to decreased energy availability (Moatt et al., 2016). The effect of overfeeding on reproduction, although appreciated in humans (Broughton & Moley, 2017), has received little attention (McCracken et al., 2020). These two responses were evident in egg laying: an increase with yeast concentration, and a stabilisation, or decline at the highest yeast concentrations (Fig.S2,3; Table S13,14). As with mortality, genetic lines also differed in the reproductive response to diet (F=6.3, df=16, P< 0.001). Reduced egg laying together with a reduction in survival, lowered predicted lifetime reproductive at the richest diet (Fig.S3). Egg laying was not affected by water (Fig.S2; Table S13,14; P>0.15), even when water rescued desiccation stress at the high yeast concentrations (Fig.2,S2) implicating nutritional toxicity in the egg laying, and part of the mortality, responses at the richest diets.
Conclusions
These data now directly demonstrate that specific care is needed when studying DR across genotypes, experimental conditions or environments. We acknowledge that carrying out full reaction norms in all DR experiments would be laborious. We suggest selecting dietary dyads that differ only minimally when genetic variance in DR is the object of study. Such a strategy reduces the chance that tested diets diverge considerably from maximal lifespans, leading to starvation or nutritional toxicity (Fig.1). Furthermore, we suggest when environmental conditions, such as water (Ja et al., 2009), sex (Regan et al., 2016) and microbiome (Wong et al., 2014) are presumed to negate the DR response, that a post-hoc reaction norm is performed.
Similar considerations hold for mechanistic research: e.g. when a genetic manipulation removes the DR response, only a full dietary reaction norm can demonstrate how such an effect arises: by either a shift in, or compression of, the reaction norm. The importance of reaction norms when studying DR has been stressed before, but this is the first high sample size data across multiple wild-type genotypes and diets that demonstrates this empirically.
Support by NERC ACCE & Wellcome Royal Society SHDF. AM and MS conceived and planned the experiment. AM and EB carried out the experiment. AM performed the analysis and wrote the manuscript with supervision from MS. MS supervised the project. The data that support the findings of this study are openly available in Dryad. The authors declare no conflicts of interest.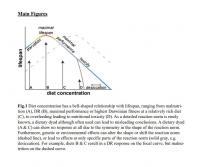 .../...