Martyin Jetpack gets backed by China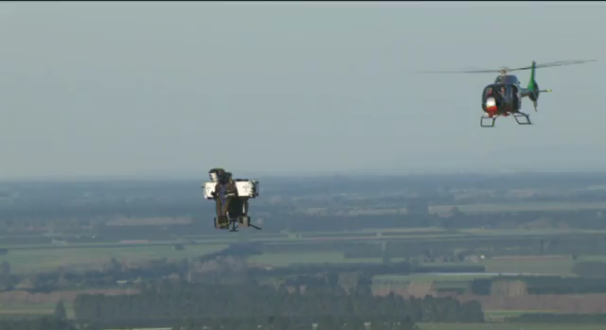 The New Zealand company behind the Martin Jetpack could well be a step closer to achieving this dream thanks to a major investment from Chinese R&D company KuangChi Science, which announced the purchase of a controlling stake in Martin late last year -- a significant injection of funds that will allow the company to take the Jetpack from prototype to reality.
It comes at a busy time for Martin, which has just listed on the Australian Securities Exchange, raising AU$27 million ($21 million, £13.6 million) through the IPO. The invention that started life as a late-night project in a New Zealand garage could soon be coming to garages around the world.
But it's not just funding that KuangChi brings to the table. The Chinese company has already established itself as a world leader in metamaterials -- artificial materials that have the potential to make aircraft lighter and more aerodynamic -- as well as aeronautical technology in the near-space environment. For Martin, all these elements come together to create a perfect partnership that will help bring the Martin Jetpack to commercial buyers and everyday consumers much quicker.
According to Martin Aircraft CEO Peter Coker, all this means a major shift in the way the average person can think about jetpacks.
"When we originally started we said, 'We're flying the dream,'" said Coker. "Well, the dream is actually here now."
http://www.cnet.com/...s-within-reach/