AGEMETER: PHYSIOLOGICAL BIOMARKERS TO DETERMINE FUNCTIONAL AGE
Answering The Need for Improved Functional Age Testing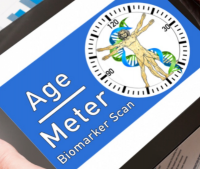 click here for further info and to donate:
--> https://www.lifespan...biomarker-scan/
The fundraiser is hosted and co-ordinated by lifespan.io.
Lead researcher: Elliott Small
LongeCity has reviewed the project under the Community Fundraiser Programme, and endorses it as a reputable initiative in line with its mission.


We have begun a ⇒ members consultation regarding ways that we can support this project further.