1

Response to movie: I Confess
----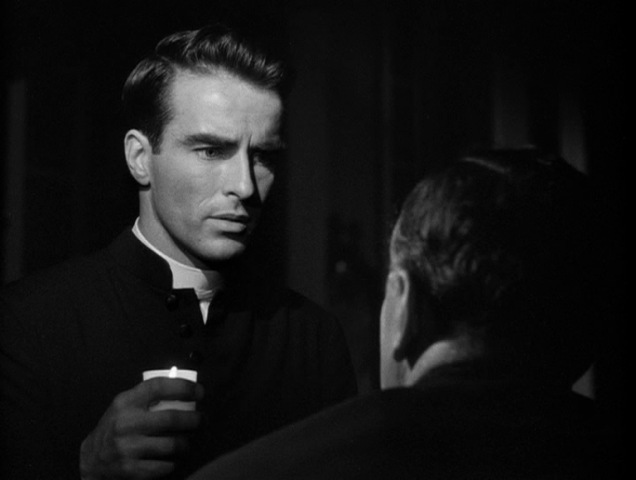 Just saw a black and white movie on TV. I Confess, directed by Alfred Hitchcock, is a crime drama released in 1953. Quebec City, Canada, serves as the setting and is like a character in the movie.
Even before you know who made I Confess you know that person is a master; the crowd scenes look vivid and real, with a sense of scale. The movie stars Montgomery Clift, Anne Baxter and Karl Malden. Montgomery Clift plays a Catholic priest whose life turns upside down. The cast are all fine actors and Montgomery Clift is compelling, as you would expect. He brings humanity and a strong presence to his character. Clift embodied the brooding intensity of the Method actors of the period as did Marlon Brando and James Dean. In spite of the craftsmanship and assembled talent I found I Confess too hard to follow. At the end of the movie many things happen quickly. I could have used instant replay and a panel of sports reporters. It didn't help that two actresses looked somewhat alike and were dressed in similar suits. I could not make out what was happening.
There was plenty of violence at the end in a fifties crime drama sort of way. The story narrowly avoids melodrama.
According to Wikipedia, due to the mores of the time, many changes were made to the original storyline to make it less controversial. I wonder if this is why I found this movie impossible to follow.
Despite these things, I Confess stands out for its iconic look, cinematography and magnificent settings.
I Confess is a crime drama, but I had my own movie. In between the events of the film I glimpsed a world that seemed to be much more orderly, quiet and spacious than the one I know. It moved me. My heart felt something. The beauty and grandeur of the buildings featured in this movie affected me. The film showcases a magnificent castle-like complex which I found out is the Chateau Frontenac. A Grand Hotel created by the Canadian Pacific Railway to encourage luxury tourism, it opened in 1893. This amazing mirage dominates the skyline of Quebec City. Many of the buildings shown in the movie are magnificent, like the church and the courthouse. They have a scale that made me feel wonder and a sense of expanded possibilities. I felt the loss of the same. These things tugged at me. I felt the lack of order and dignity in the world around me. I felt the contrast between the built environment shown and what I have dealt with all my life. Buildings have lawns instead of parking lots. Presumably people live one family to a house instead of each house being a rabbit warren of illegal apartments. Visions of other lives and other places appeared before me. I felt pulled. I felt the dignity of life in that time and place and the lack of it in my own.