.
Abstract
Humanin is a member of a new family of peptides that are encoded by short open reading frames within the mitochondrial genome. It is conserved in animals and is both neuroprotective and cytoprotective. Here we report that in C. elegans the overexpression of humanin is sufficient to increase lifespan, dependent on daf-16/Foxo. Humanin transgenic mice have many phenotypes that overlap with the worm phenotypes and, similar to exogenous humanin treatment, have increased protection against toxic insults. Treating middle-aged mice twice weekly with the potent humanin analogue HNG, humanin improves metabolic healthspan parameters and reduces inflammatory markers. In multiple species, humanin levels generally decline with age, but here we show that levels are surprisingly stable in the naked mole-rat, a model of negligible senescence. Furthermore, in children of centenarians, who are more likely to become centenarians themselves, circulating humanin levels are much greater than age-matched control subjects. Further linking humanin to healthspan, we observe that humanin levels are decreased in human diseases such as Alzheimer's disease and MELAS (Mitochondrial Encephalopathy, Lactic Acidosis, and Stroke-like episodes). Together, these studies are the first to demonstrate that humanin is linked to improved healthspan and increased lifespan.
Introduction
Mitochondria are central to several theories of aging as they are the major producer of both energy and free radicals, they regulate cell apoptosis, and their dysfunction is central to the observed physiological declines that occur during the aging process [1–5]. Similarly, mitochondrial dysfunction is found in many age-related diseases, although whether this is causal or simply correlative has yet to be established [6–9]. Furthermore, in addition to their role in energy utilization and cell survival, alterations in mitochondrial genes can increase lifespan in several model organisms and mitohormesis has been implicated in lifespan [10–16]. Interestingly, although the vast majority of the proteins found within the mitochondria are encoded by the nuclear genome, mitochondria have their own unique translational machinery and genome, which was previously believed to only code for 13 proteins [17, 18].
In the past decade the number of identified mitochondrial derived peptides (MDPs) and micropeptides have grown exponentially [19, 20]. Micropeptides are an emerging group of small (<100 amino acids) proteins that are often encoded within long-noncoding RNAs, introns, or 5' and 3' untranslated regions [21–26]. Perhaps because of the compact nature of the mitochondria and absence of introns, MDPs are encoded in alternative open reading frames within known genes. These MDPs are a novel group of micropeptides encoded within the mitochondrial genome and have been shown to have a large number of biological effects [27–32].
Humanin is the first member of this new class of mitochondrial-derived signaling peptides that now includes MOTS-c and SHLP1-6 [19, 20]. The humanin gene is found as a small open reading frame within the 16s rRNA gene of the mitochondrial genome. It is highly conserved in chordates but can also be found in species as distant as the nematode [33], suggesting that humanin is an ancient mitochondrial signal used to communicate to the rest of the organism. It was initially discovered in a screen for proteins that protected against Alzheimer's disease (AD), but was also independently found to bind IGFBP3 and Bax [33–35]. Since its initial discovery, humanin's role in protecting against many other age-related diseases such as atherosclerosis and stroke has expanded with numerous beneficial effects now evident [36–38]. Circulating levels of humanin correlate with lifespan in different mouse models of aging and bi-weekly injections of the humanin analogue HN-S14G delays the cognitive decline in mice [39–42]. Another MDP, MOTS-c, has already been associated with longevity in centenarians [43], although association studies of humanin levels in humans have been equivocal [44–46]. In this study we further investigated the relationship between humanin, longevity, and healthspan using transgenic worms, multiple mammalian species with divergent lifespans, and also the children of centenarians compared to age-matched controls.
Humanin overexpression is sufficient to increase lifespan in worms
Humanin has been shown to protect against many toxic insults. For example, we found that humanin treatment protected against lethal doses of heat shock in yeast (Supplementary Figure 1). To test if humanin is sufficient for an increase in lifespan, we generated a transgenic worm overexpressing humanin using a ubiquitous promoter (ife-1) and MoscI technology (Knudra, Murray, UT). After backcrossing the worms to wild-type/N2 worms six times, we examined their lifespan and found that the transgenic worms had a small but consistent and significant (p<.05) increase in lifespan compared to wildtype/N2, indicating that humanin is sufficient to increase lifespan in worms (Figure 1A). Using epistatic analysis, we found that the increase in lifespan was dependent on the daf-16/FOXO gene as humanin overexpression does not increase lifespan in a daf-16(mu86) deficient strain (Figure 1B). Humanin's interaction with the insulin/IGF signaling pathway has been previously shown in mice, suggesting that this is a conserved mechanism of action for humanin [39, 47]. Phenotypic analysis of these transgenic worms also found them to have a decrease in body size, body fat, and reproductive output (Figure 1C–1E).
Figure 1.
Humanin overexpression is sufficient to increase lifespan in C. elegans.
HN overexpression significantly increased lifespan in worms (average lifespan of 19.0 days) compared to wild-type/N2 (average lifespan 17.7 days)
(A).
This increase in lifespan was dependent on
daf-16
as
daf-16(mu86)
mutants did not have any increase in lifespan when crossed with the humanin-tg strain (average lifespan 15.5 days vs 16.1 days respectively) (p < 0.2) (
B
). Hn-tg worms also had a significant decrease in body length, body fat, and reproductive output (
C
–
E
). *indicates p<.05.
Humanin mice are protected from toxic insult and phenocopy the transgenic worms
Having created transgenic worms, we next developed a transgenic mouse model using a construct that included the humanin-ORF driven by a CMV promoter to test the effects of long-term exposure to humanin. Mice harboring the humanin transgene were both viable and fertile. We have previously published that there is a 16% increase in circulating humanin levels in these mice [48]. With this model, the effects of long-term exposure to humanin were assessed. Phenocopying the worms, the mice had a decrease in body length, body weight, and litter size (Figure 2A–2C). To further assess the HN-tg mice and because humanin has been shown to be cytoprotective by many different labs, we utilized the well-established cyclophosphamide toxicity model. Cyclophosphamide (CP) is a chemotherapeutic agent that causes many side effects, but humanin administration has been shown to prevent many of these [49]. Similar to previous studies that administered humanin exogenously, humanin transgenic mice were also protected from many of the side effects of CP such as the decrease in lymphocytes and increase in apoptosis in germ cells (Figure 2D, 2E). Under control conditions, there were no differences in germ cell apoptosis between control and HN-tg mice, suggesting that germ cell apoptosis was not the cause of the decreased fertility in these mice (Figure 2E).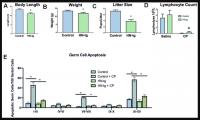 Figure 2.
HN-tg mice phenocopy the transgenic worms and are protected from toxic insult.
Humanin transgenic mice have a significant decrease in body length by 12% at 28 days of age (n= 5 for control and n=3 for the hn-tg mice) (
A
). Body weight at the same age was also decreased by 10.4% (n=26 and n=16 for control and hn-tg mice respectively) (
B
), while litter size decreased by 46.5% (n=10 and n=15 for control and hn-tg mice respectively) (
C
). When administered cyclophosphamide, mice have a decreased lymphocyte count and transgenic mice are protected from this toxin (n=6 or 7 per group) (
D
). Similarly, when examining germ cell apoptosis organized by spermatogenic stages in the same cyclophosphamide treated mice, humanin transgenic mice are significantly protected from CP induced apoptosis (
E
). * indicates p<.05.
Humanin treatment in middle-aged mice improves metabolic health
To examine if humanin treatment can increase the lifespan and healthspan in a mammalian model, 18-month-old, female C57BL/6N mice were obtained from the NIA and administered bi-weekly HNG (4 mg/kg, IP), a potent humanin analogue. Body weight was significantly reduced compared to control/vehicle injected until older ages (Figure 3A), but food intake did not significantly differ between HNG-treated and control mice during this same time period (Figure 3B), suggesting a possible metabolic effect as opposed to the treatment causing illness. At 28-months of age, body composition was determined by micro-CT [50] and even without a significant difference in body weight at this time point, the HNG-treated mice had a decrease in visceral fat (Figure 3C), an increase in lean body mass (Figure 3D), and no change in subcutaneous fat (Figure 3E) (N=5/group). After 14-months of treatment, there was no significant difference in lifespans between the groups (Figure 3F). However, the HNG-treated group showed improvements in healthspan related parameters such as a significant decrease in IGF-I and trend for a decrease in leptin (Figure 3G, 3H).
.../...